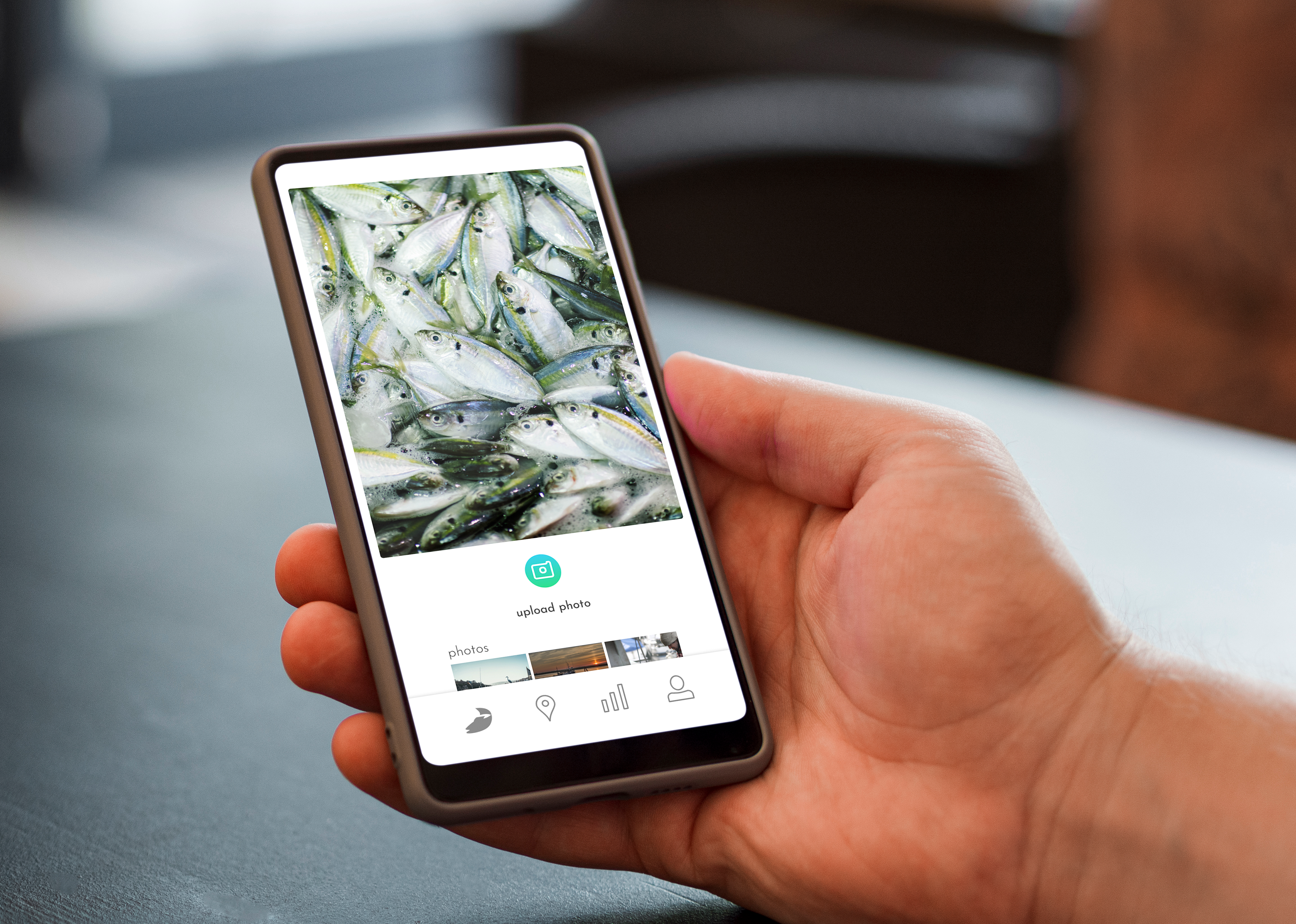 Context
Design for Social Innovation
Roles
UX Designer | UI Designer | UX Researcher
The Problem
High rates of overfishing of specific species are being perpetuated by a purchasing and distribution process that is opaque and complex. The distance between production and consumption has resulted in a demand-driven market that values species based on familiarity and not taste or sustainability.​​​​​​​
How might we create a balance between supply and demand in the fishing industry

?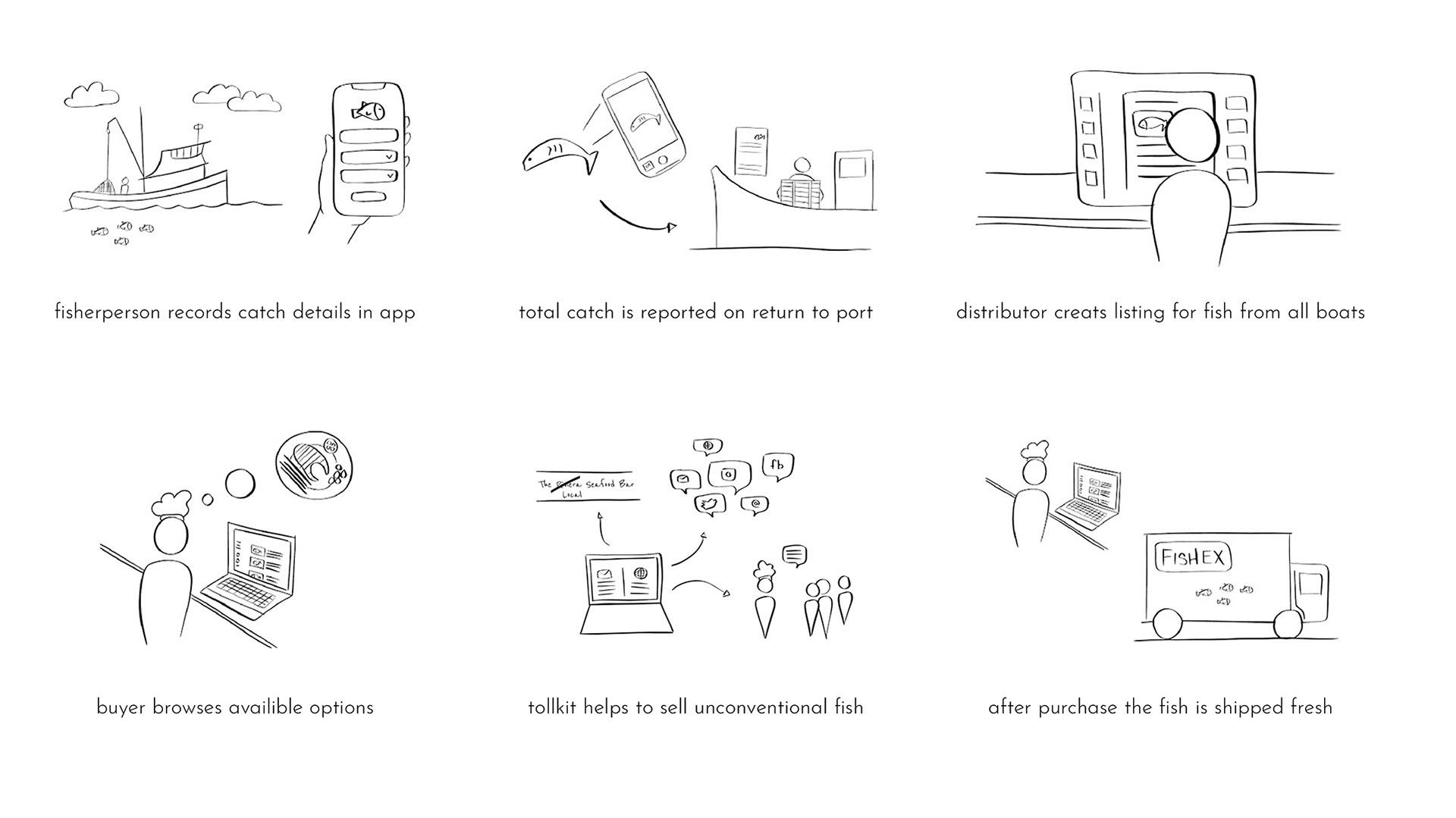 Research + Exploration
To better understand the nature of the problem we immersed ourselves in domain research and conversations with chefs and area experts to understand the process of ordering fish and their relationships with distributors.
We heard from them about the chaotic and disorganized fish ordering process that is not systematized. We also heard about users being hesitant to try lesser known fish and the struggles of trying to work around unstable availability and inconsistent information from distributors about what will be available when.
As a guest lecturer, Barton discussed with our class his role in the ecosystem as an influential chef who has spent his career trying to restore our complicated relationship with the ocean.  As a firm believer in the ties between human and ocean health, Barton spent many years as a renowned executive chef and restaurant owner before transitioning towards local and international initiatives.
Throughout his restaurant career he witnessed many examples of issues within the system, but none so memorable as the time that he was delivered bait fish, with the reason behind it being that there was no other catch made that day. As a way to showcase the opportunities that our oceans present, Barton served the undervalued fish, while never missing the chance to emphasize to his customers exactly what the story behind it was.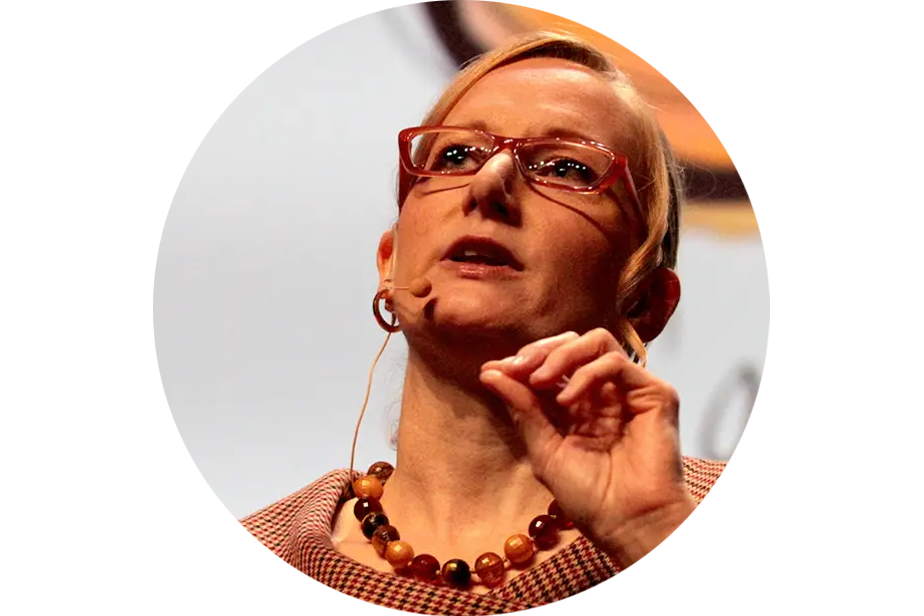 Cheryl Dahle is a journalist and an entrepreneur who founded future of fish as a non-profit innovation hub that supports research, design, and businesses services to organizations and individuals accelerating sustainability and traceability in seafood supply chains. Cheryl visited our classroom to discuss the issues of overfishing, sustainability, and how the story of fish is being lost at multiple levels of the supply chain.
Through research done by future of fish, the key findings were that consumers find 'storied fish' appealing, but have trouble locating it when purchasing seafood. During further exploration, the definition of 'storied fish' was identified, along with market testing for this concept. A detailed report released by Future of Fish provided us with these and other underlying conclusions that helped shape our understanding of the problem space.
key takeaways
The fishing industry is complex.
With touchpoints and turns and a lack of communication, the story of fish is being lost and has created an ecosystem that is opaque and difficult to maneuver.
Undervalued seafood deserves a seat at the table.
By not only giving stories to the mystery fish that we already consume but also to the ones that we could consume, undervalued seafood might serve to recalibrate our ocean stocks by removing pressure from our overfished species, and ultimately restoring our complicated relationship with the oceans.
Defining the Problem
After learning about the complicated interactions that exist within the industry, our team began iterations on our stakeholder ecosystem. While we found that identifying stakeholders was a fairly straightforward task, understanding how each interacts with the other was more difficult, especially when certain aspects of interactions occur outside of the the US, where we have even less data to draw from.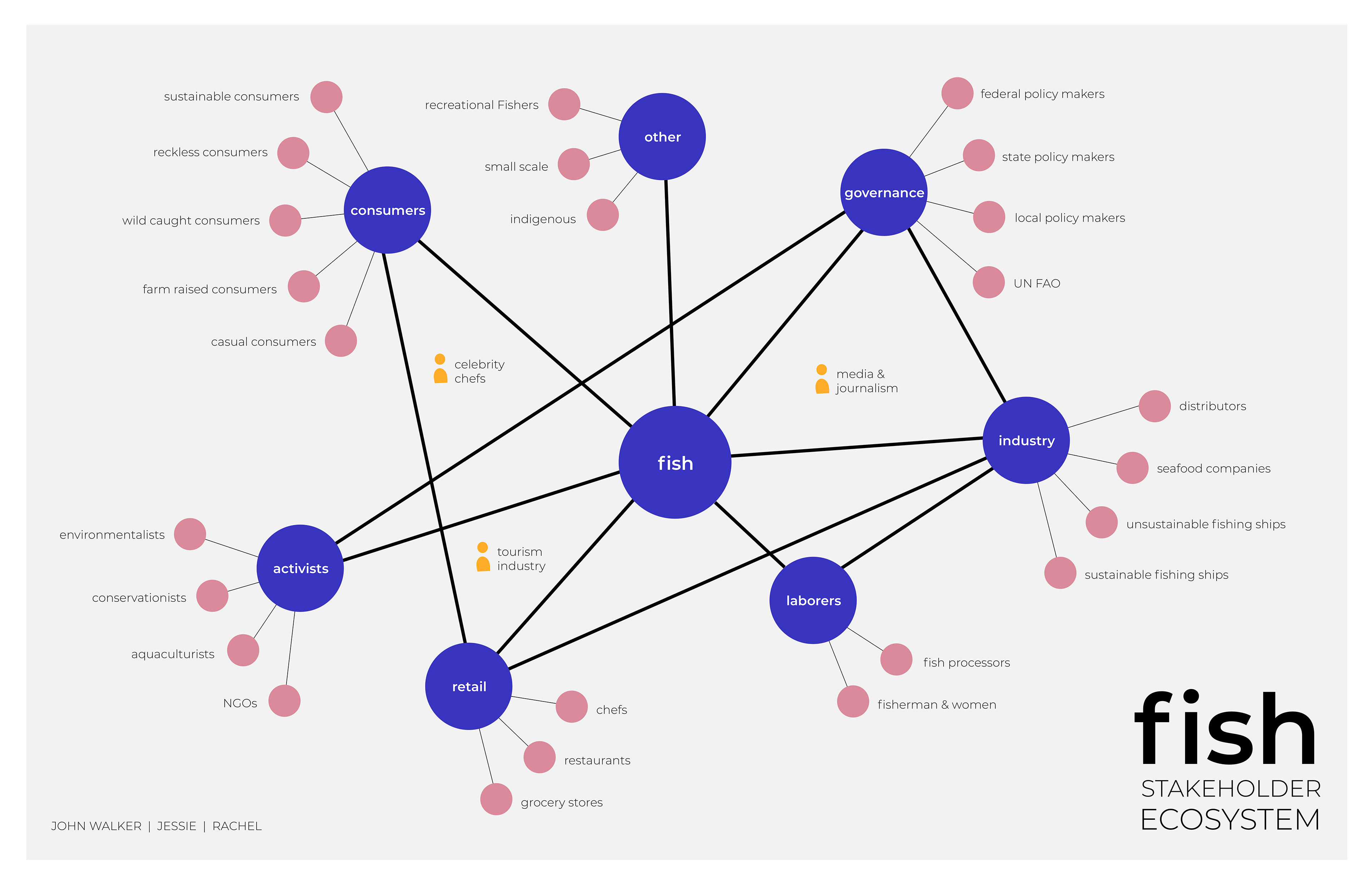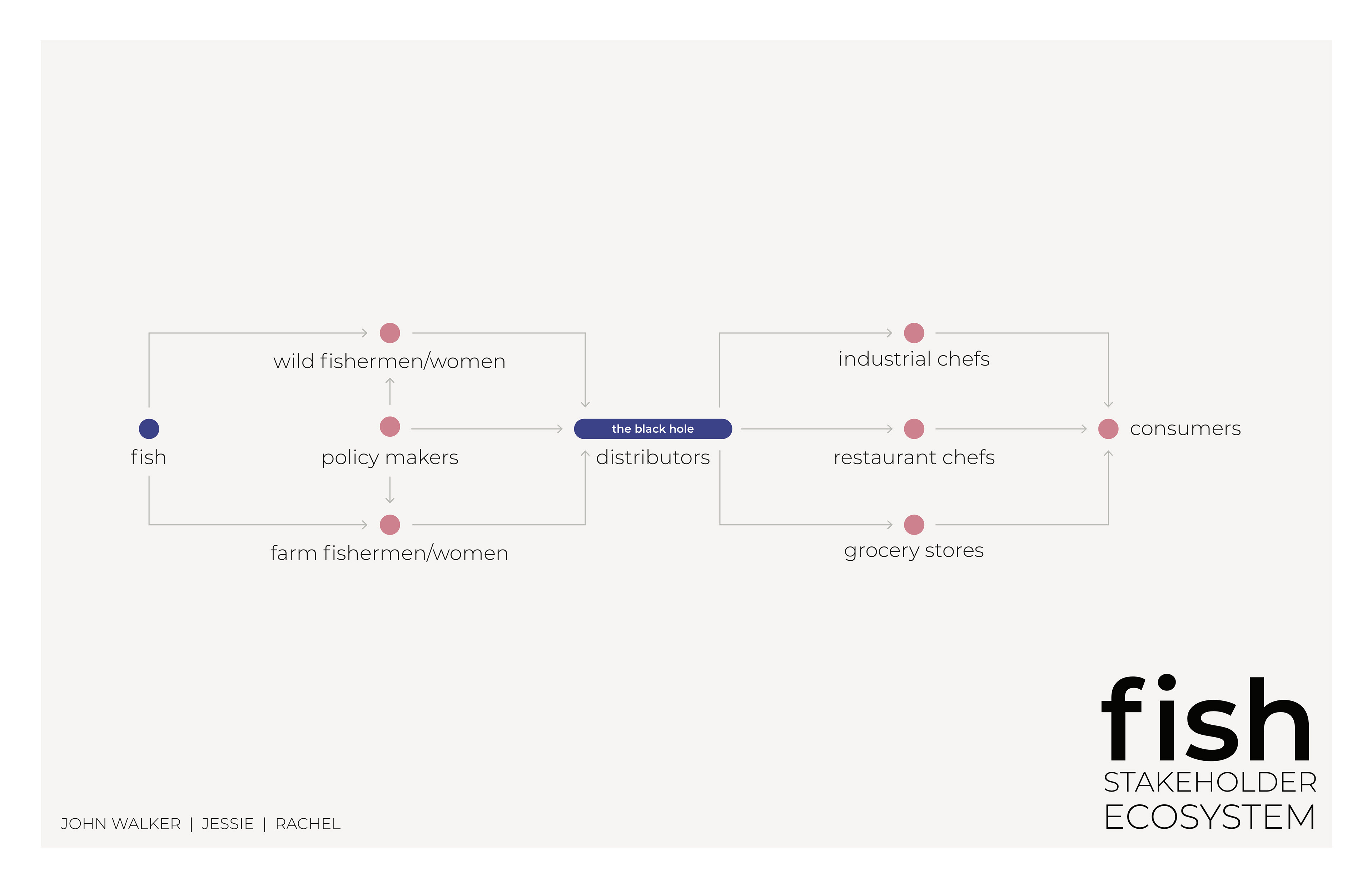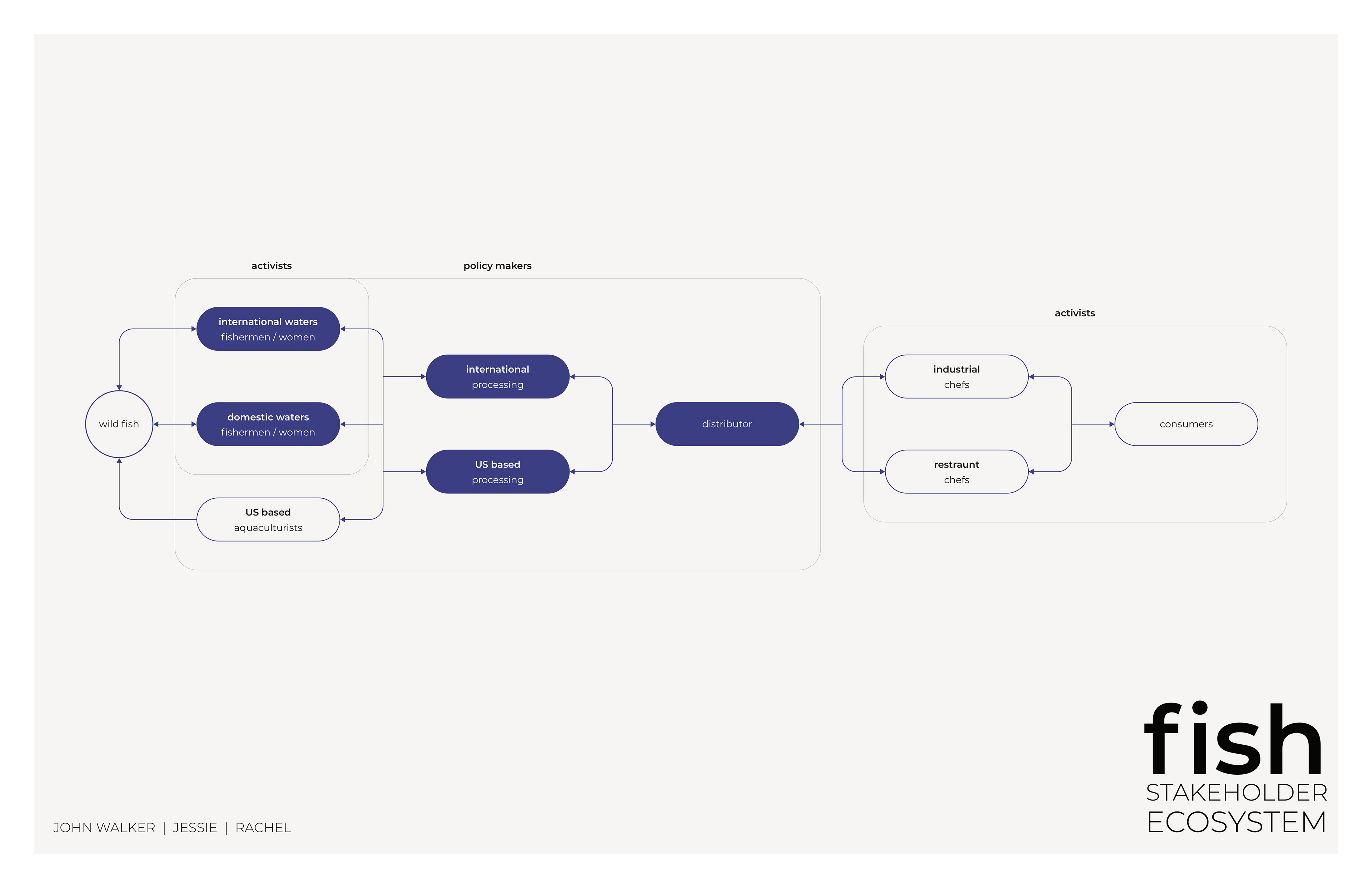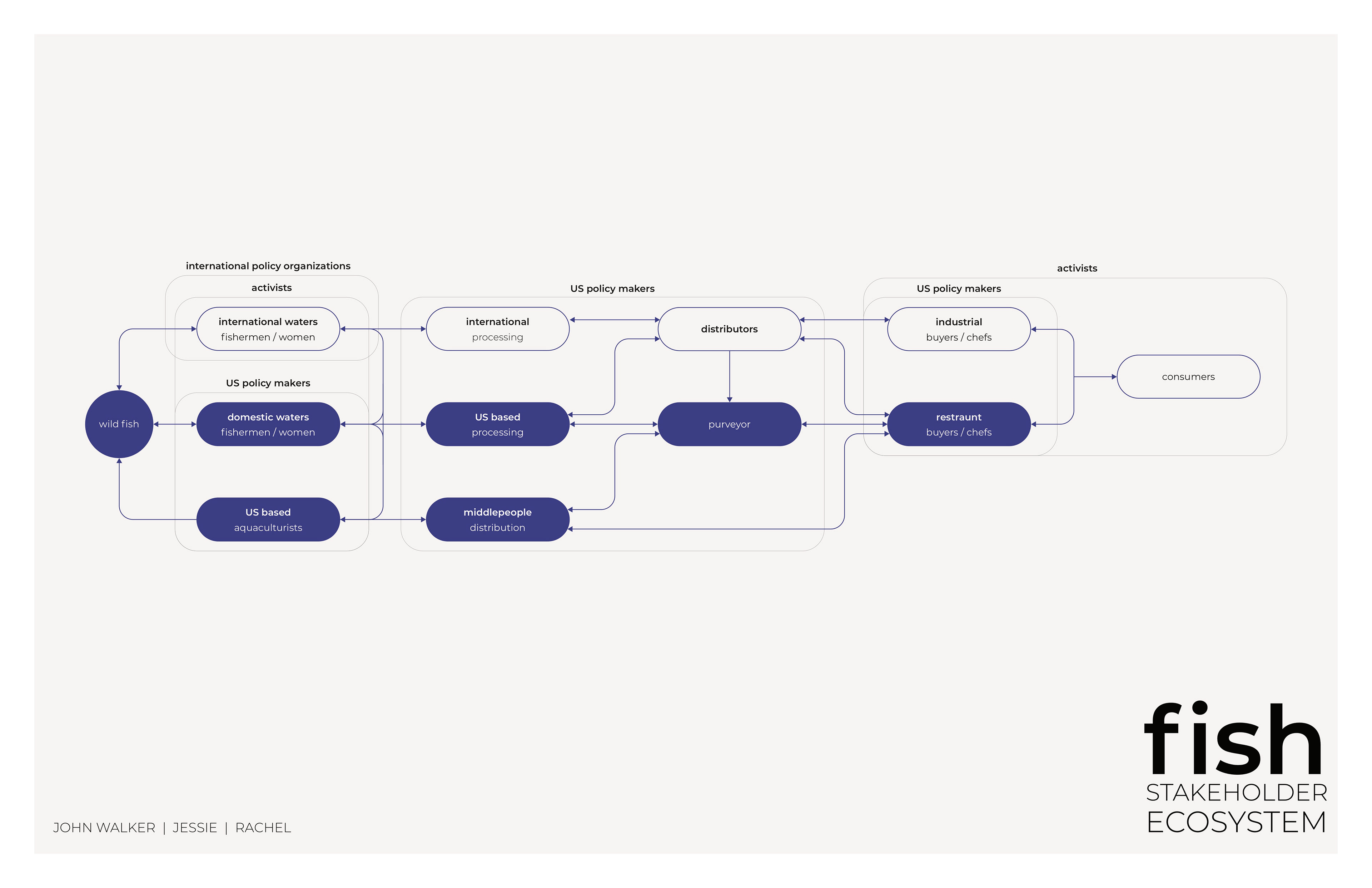 Through multiple iterations and substantial remodeling, our team was able to create a stakeholder process map that we felt identified the key characteristics of the ecosystem. It also served to establish where and with what stakeholders we wanted our intervention to exist.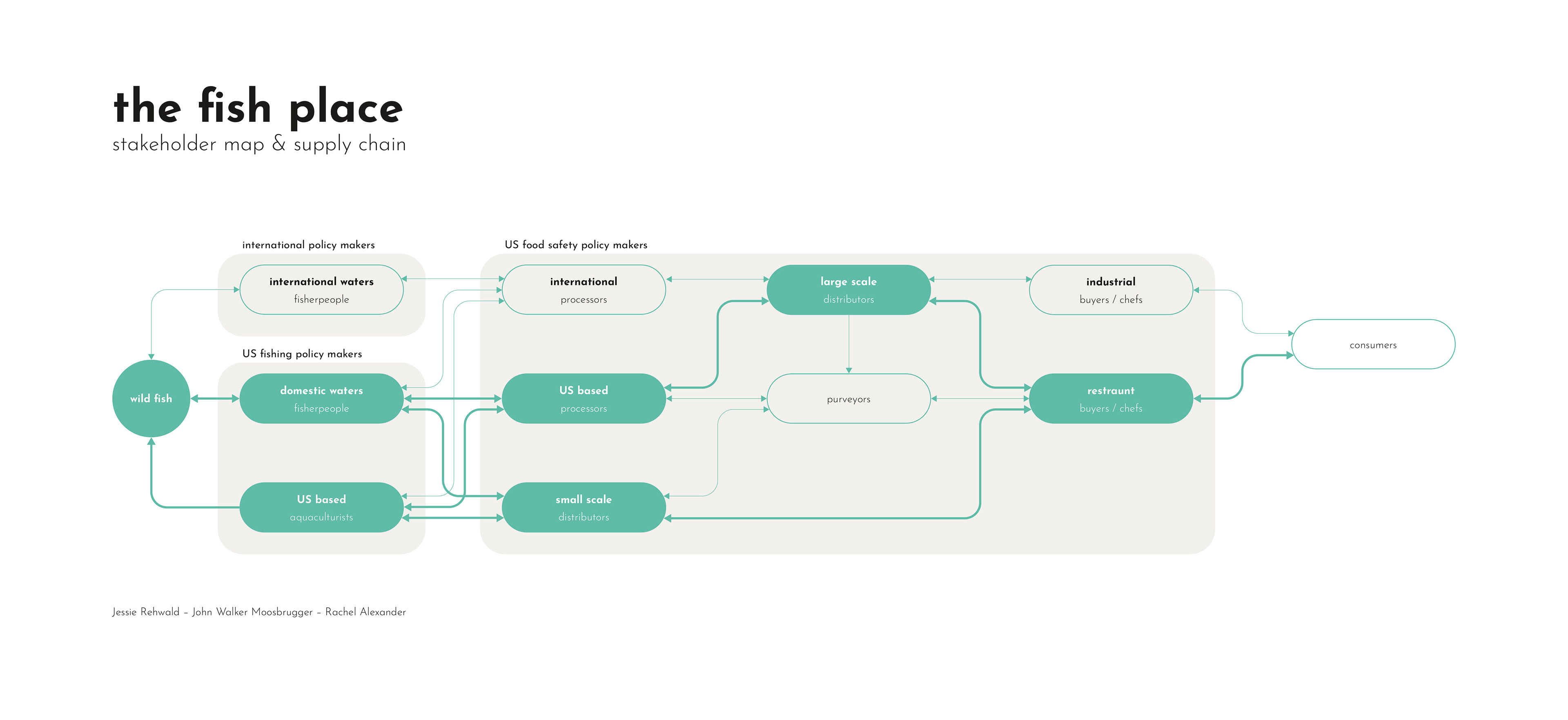 Ideation
As our team ideated around everything we had learned from domain experts and field research, three possible solutions became apparent.
With the 'story' of fish being lost, we presented the idea of
labeled traceability
. We then looked more at the chefs, who required a
communications tool
to market underutilized seafood to their customers. Finally, we identified the need for a
marketplace
that would directly connect our key stakeholders and bring data forward.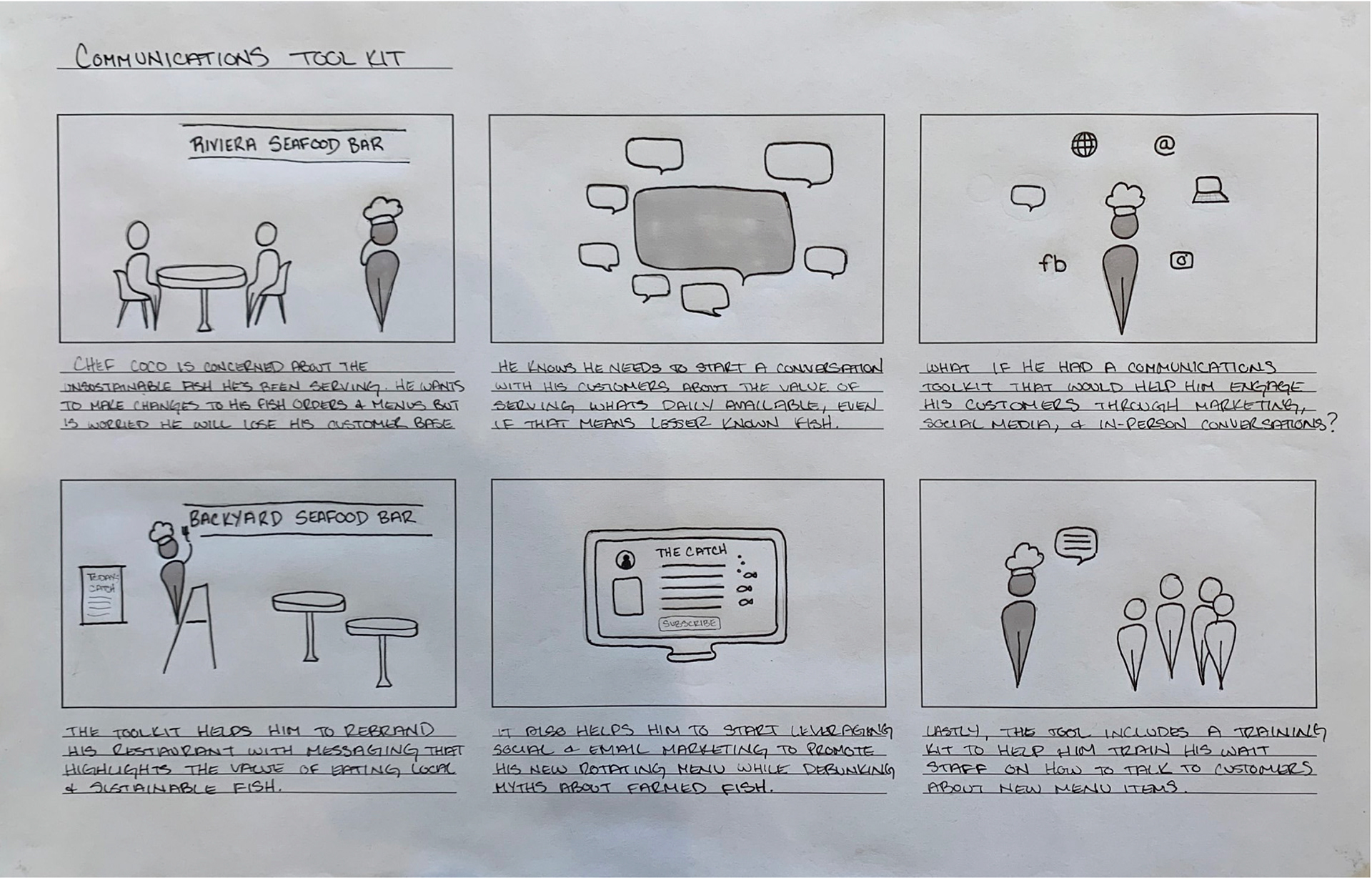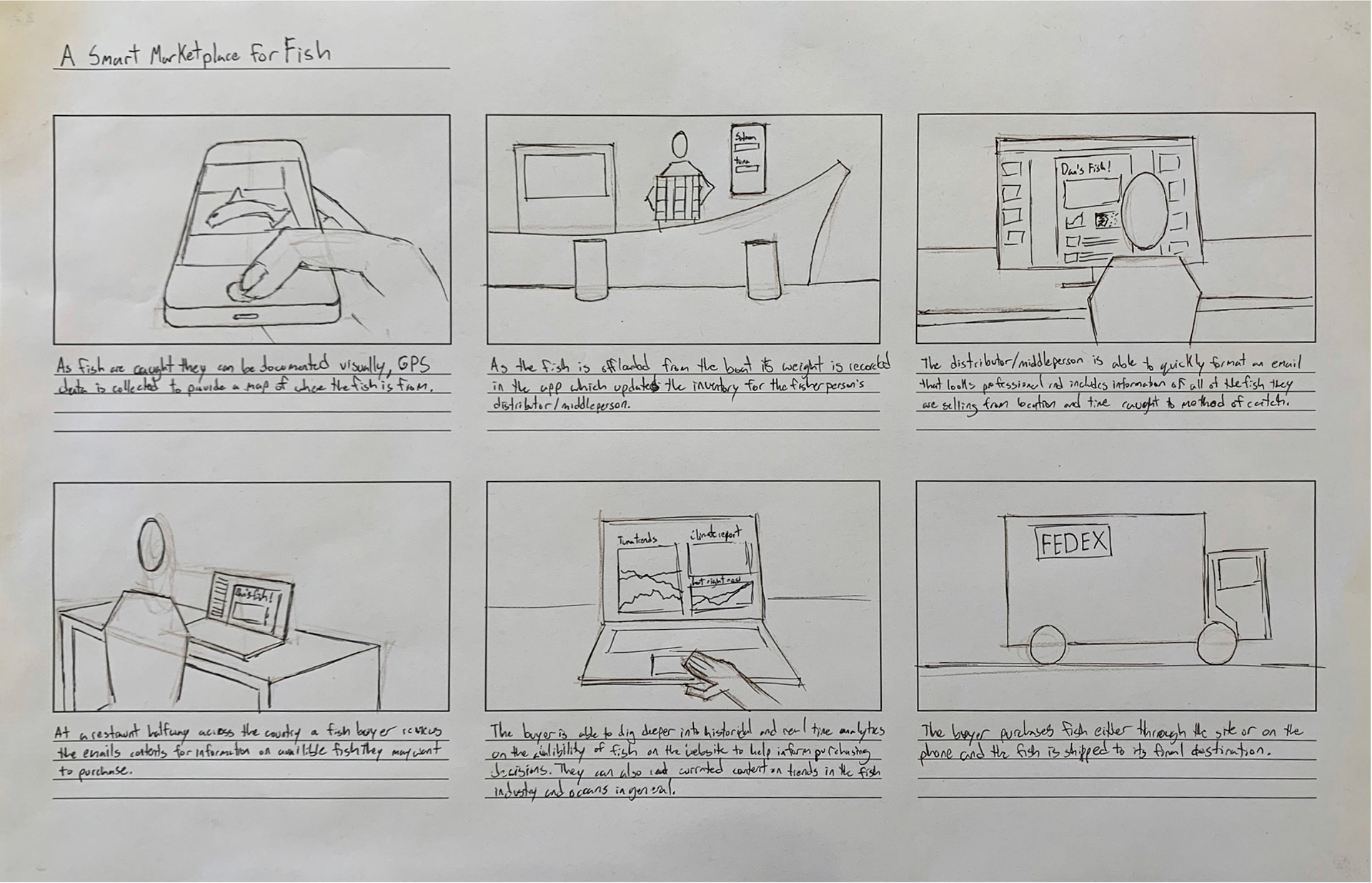 A simple multi-platform tool that offers transparent data collection and sharing, directly connecting fisherpeople, distributors, and chefs for a streamlined buying and selling process that opens new markets.

app for fisherpeople
The app will allow fisherpeople to quickly and easily share data on what they catch. It will also empower them with the ability to market seafood that is typically undervalued but available. This will boost their sales, enhance ocean sustainability, and ultimately increase the resiliency of their business.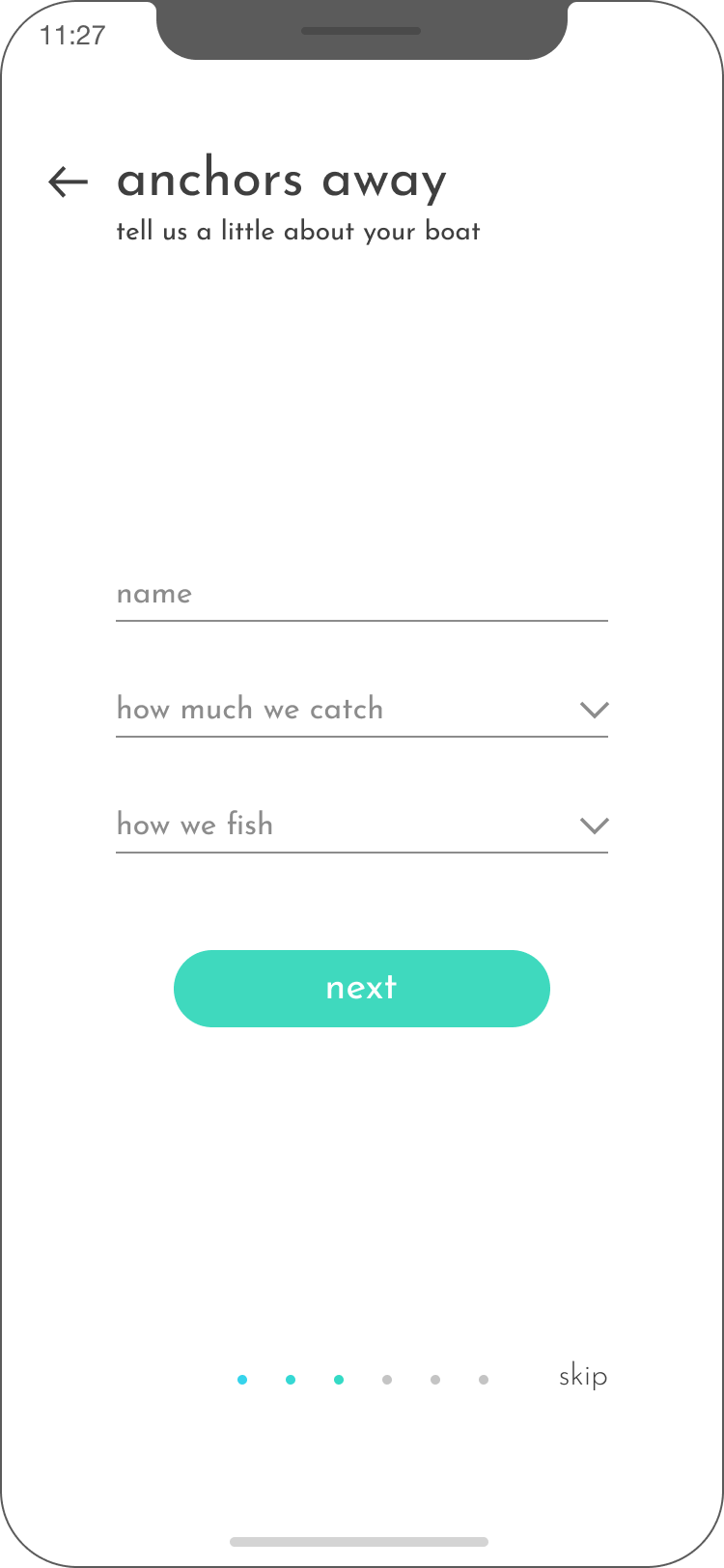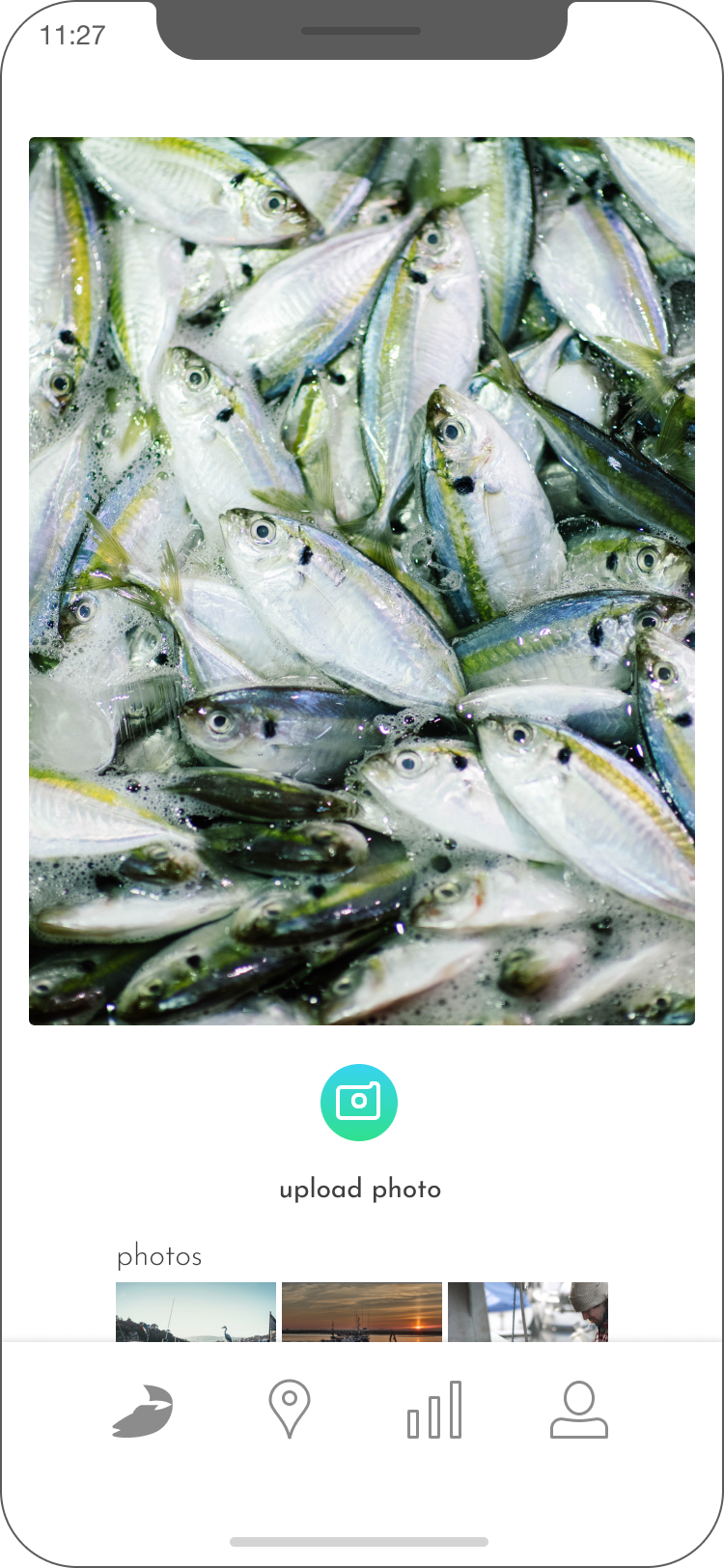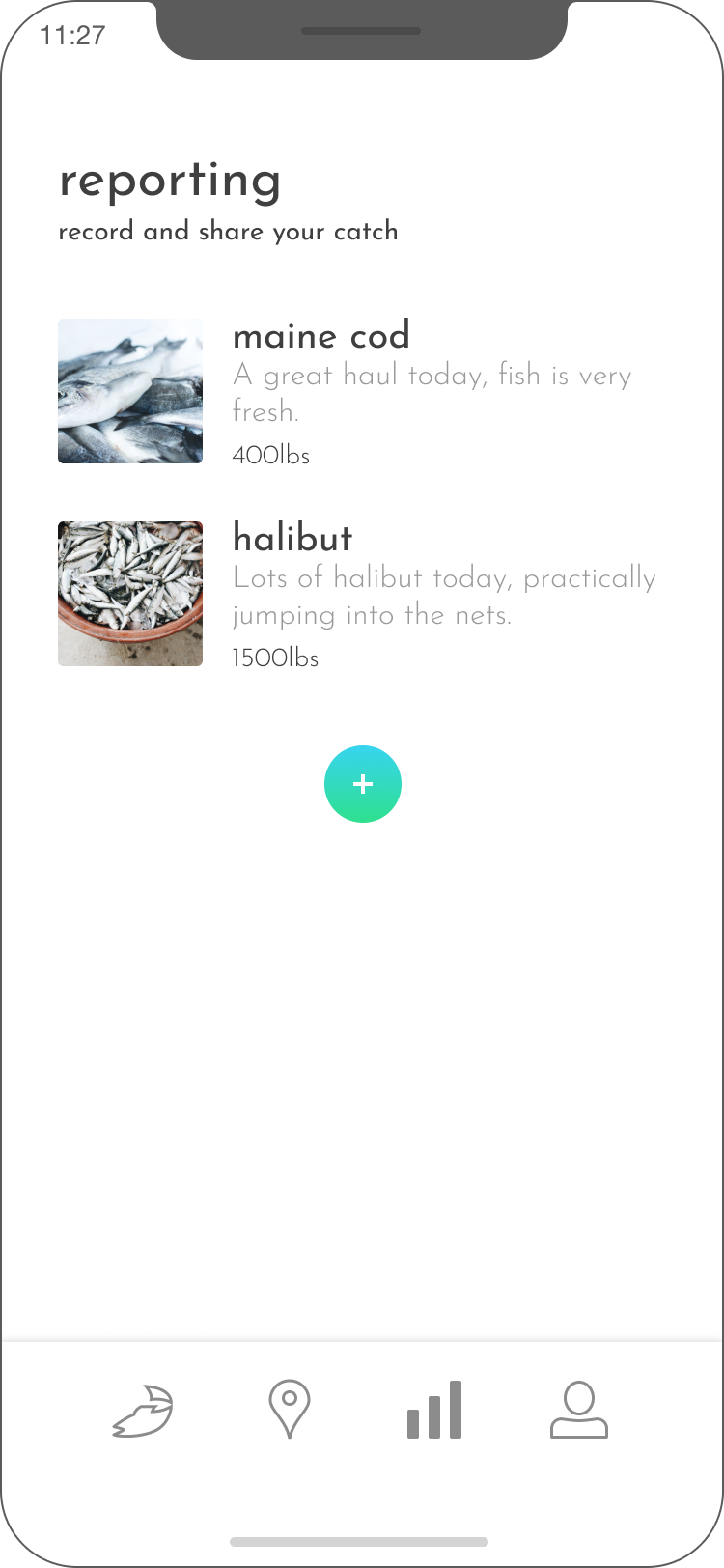 distributor toolkit
As a distributor, the ability to receive and share accurate and transparent data is paramount. With automated prompts that can be shared almost immediately, gone will be the days of confusing spreadsheets and miscommunication.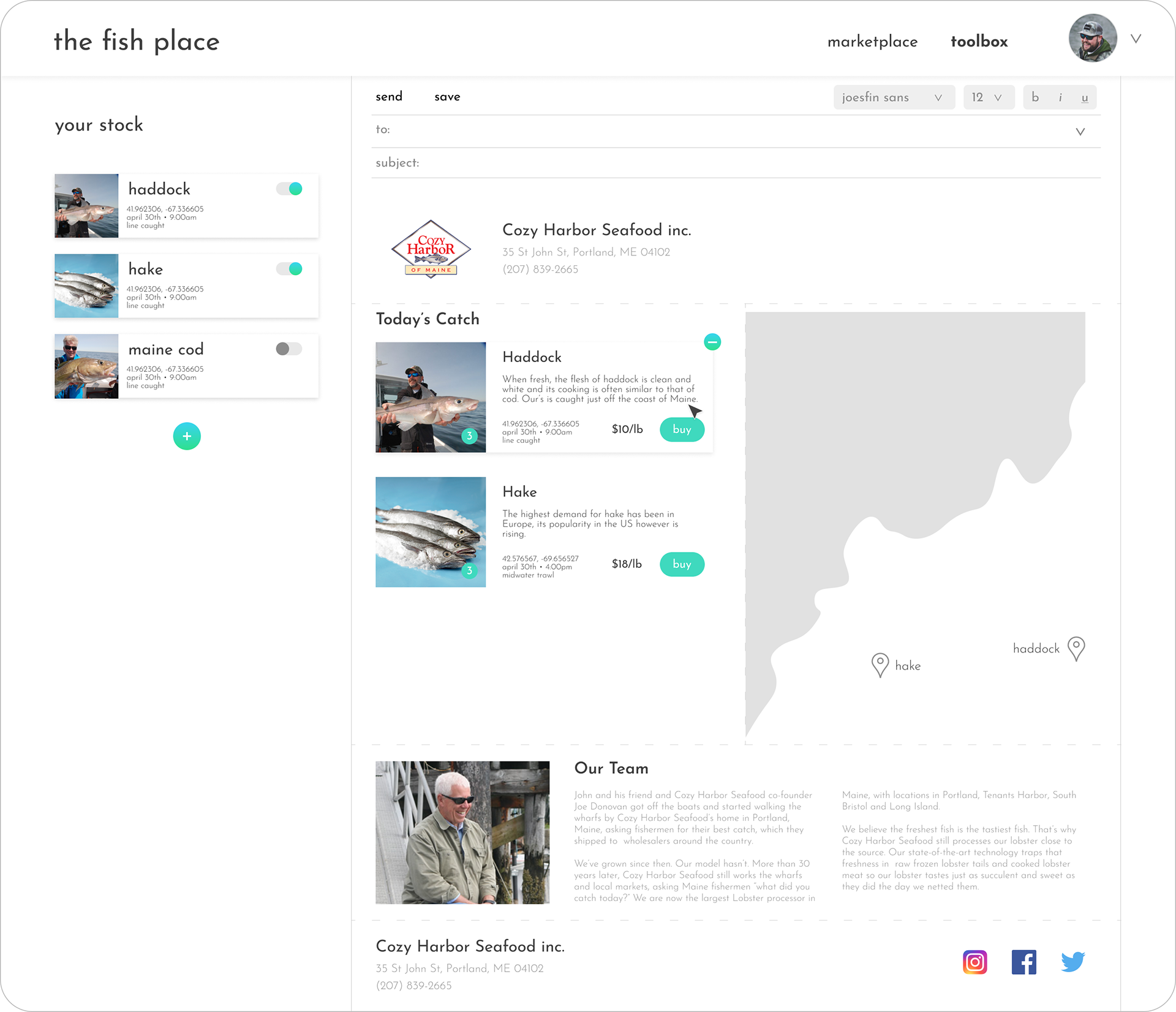 chef/buyer marketplace & marketing tool
With data no longer focused solely on a few species of fish, chefs and buyers will have access to new seafood markets. Additionally, with the marketing tool specifically designed to enhance their communication with customers, they can elevate the story of fish and extol the benefits of consuming sustainably.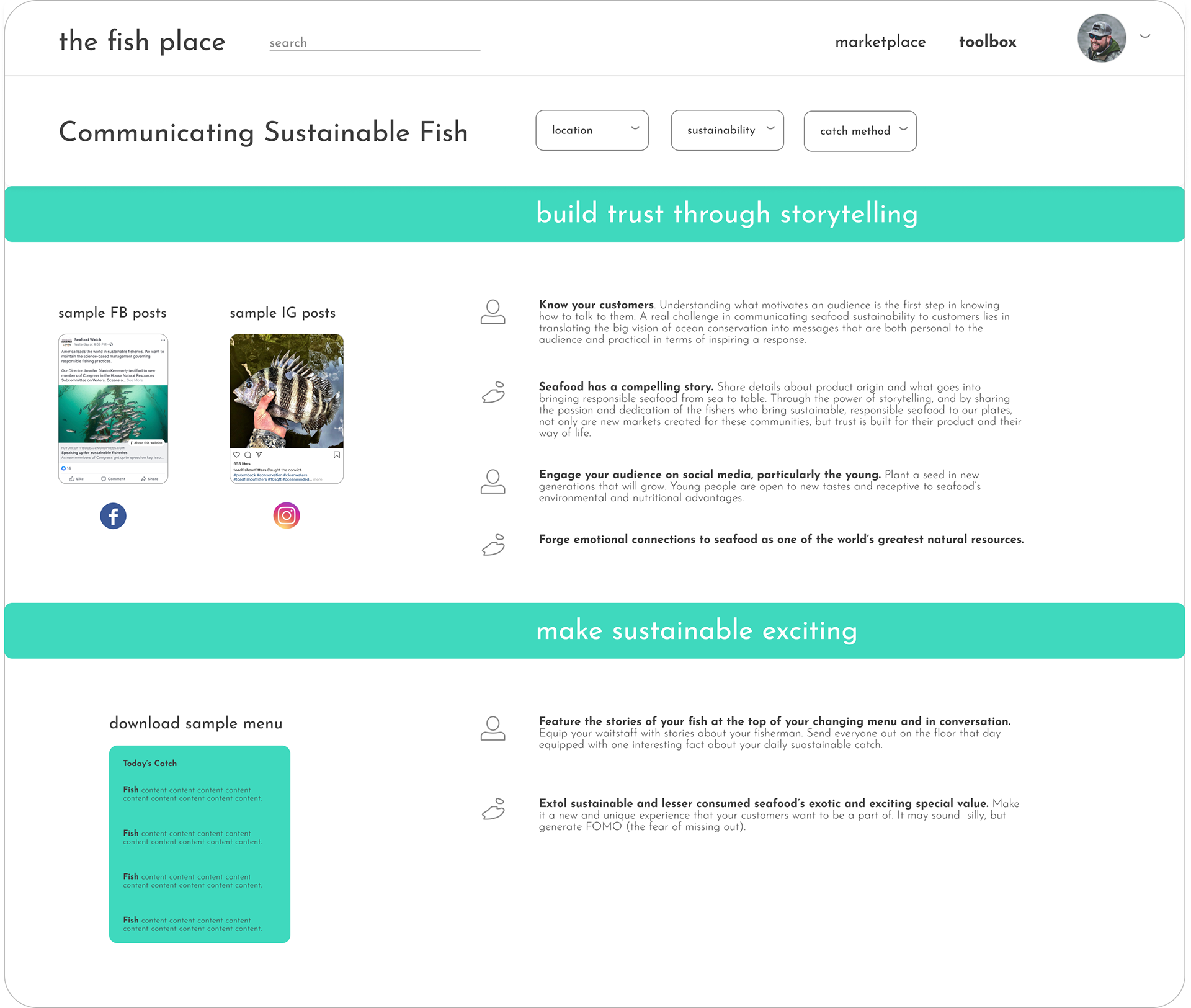 Reflections
Consideration for moving forward with our design:
elevating the story of fish
If we were to continue to iterate on our design, we would focus on more reporting opportunities to bring the fisherperson and their experiences of their catch forward directly to the consumer, as we learned it is storytelling that has the power to influence consumer behavior.
business model
While the hope is for altered consumer habits to emerge, the nature of this innovation means it will function best under a 'trickle down' approach. This will target higher-end restaurants initially, before making undervalued seafood a 'trendy' option for every-day consumers.
partners in growth
As a way to incentivize use and maximize exposure to stakeholders, we imagine that the fish place would be best implemented if funded by distributors themselves, who can then ensure its uptake via existing relationships with fisherpeople and chefs.