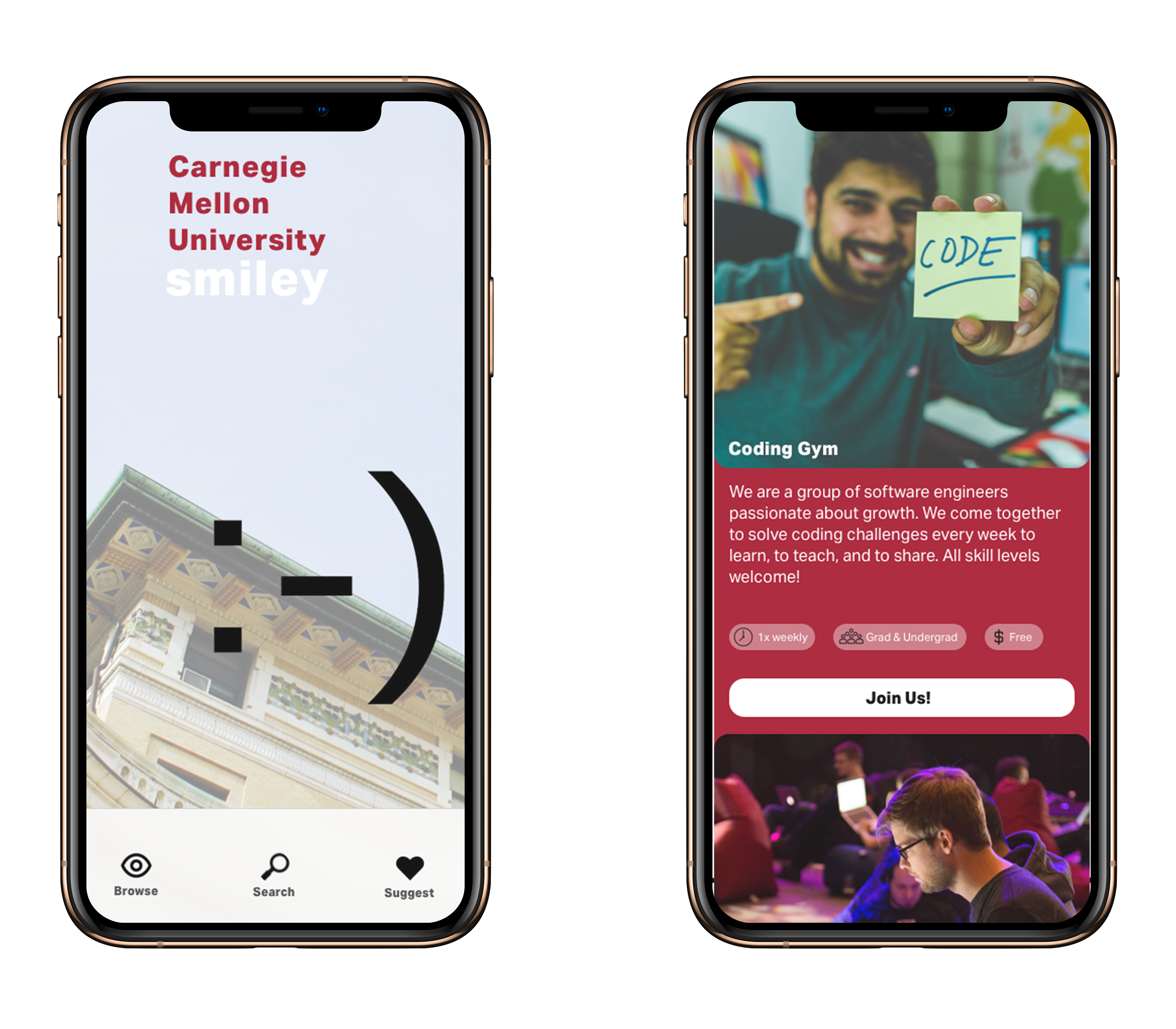 Context


Google UX Design Internship Challenge
Tools


Sketch | Axure | InVision
A new school year is approaching and the orientation team is looking to you for some design expertise. 

Design an experience for new students to browse, search, and propose new student organizations.

​​​​​​​
Smiley is a mobile platform matching app that matches students with student organizations and clubs based on student preferences and organization constraints
. The platform is a quick and easy way for students to learn about the various different clubs and student organizations on campus, ensure they meet basic the qualifications for joining, and glean the information they need about club commitments to make an informed decision.
The UI operates similarly to a dating app where students enter their preferences and interests before being "matched" with organizations and clubs that meet their specifications. Because the platform requires the clubs to manage their accounts, they can control how they present themselves to students.
With the time allotted, I drafted a survey to learn how students are finding out about university organizations at Carnegie Mellon, why they join organizations, and why they do not.
I was interested in both the motivations for joining or not joining as well as the pain points they experience along the way. 
​​​​​​​​​​​​​​
I also arranged for a number of informal in-person interviews with students which allowed me to ask more in-depth  questions to better understand the emotional and psychological barriers that bar them from campus engagement. Although my sample size was small, the opinions expressed were diverse. I learned from this feedback that
the barriers to engagement were primarily emotional and perception based followed by confusing logistics and limited access to information.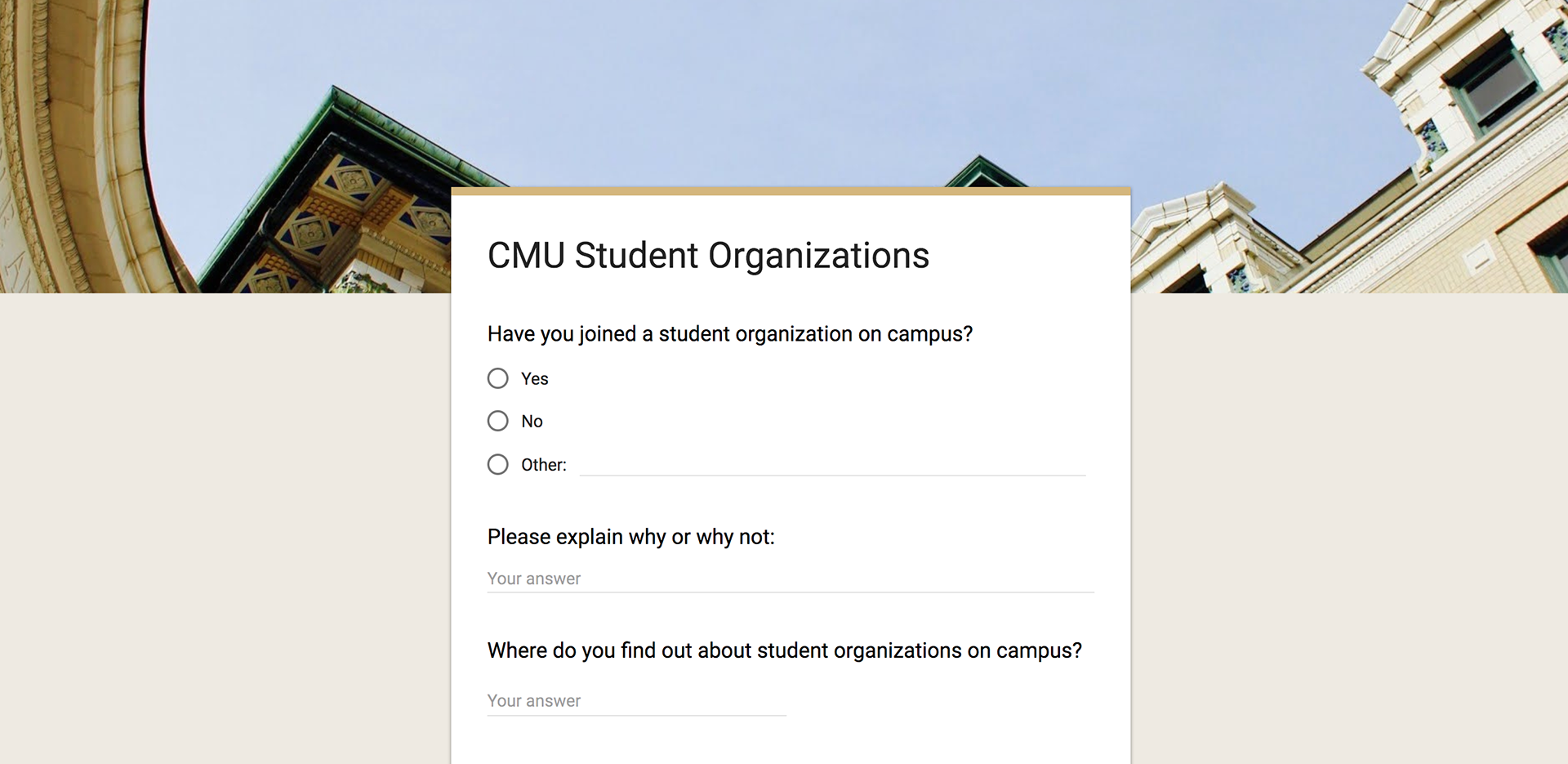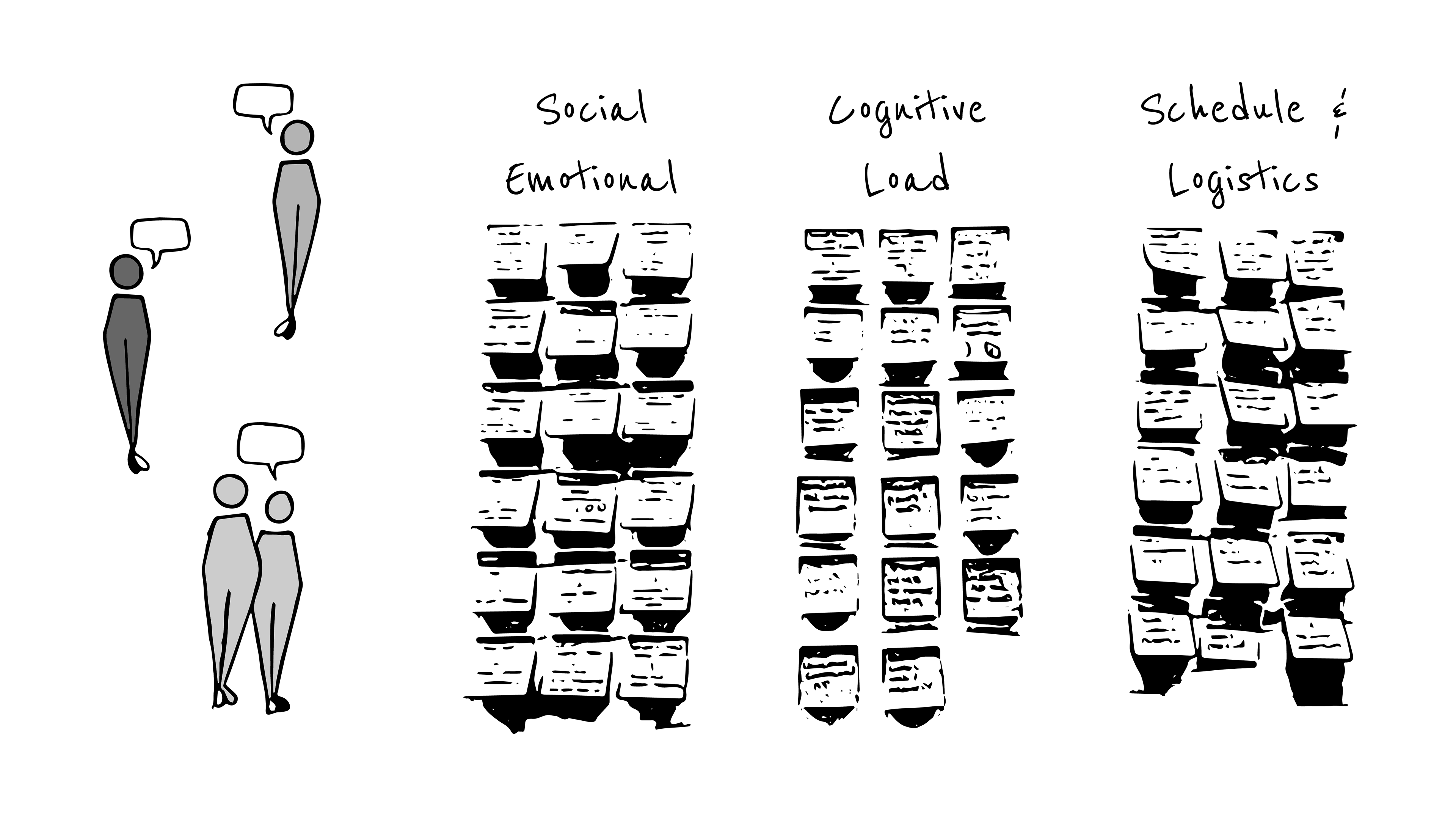 Synthesis
I collected the results from the survey and from my conversations with students and grouped them together by like pain points. I found that the issues preventing a student from joining a student organization largely fell into three categories:
"I don't know if I have enough time to commit to regular meetings."
"I don't understand how to join or where to sign up for more information."
"There's too many options."
"I wish they were easily grouped and categorized for ease of finding a club that matches my interests."
"As an undergrad, I don't know if I'm welcome in certain groups."
"I don't know if the club is exclusive to a particular demographic."
"I'm worried I won't fit in."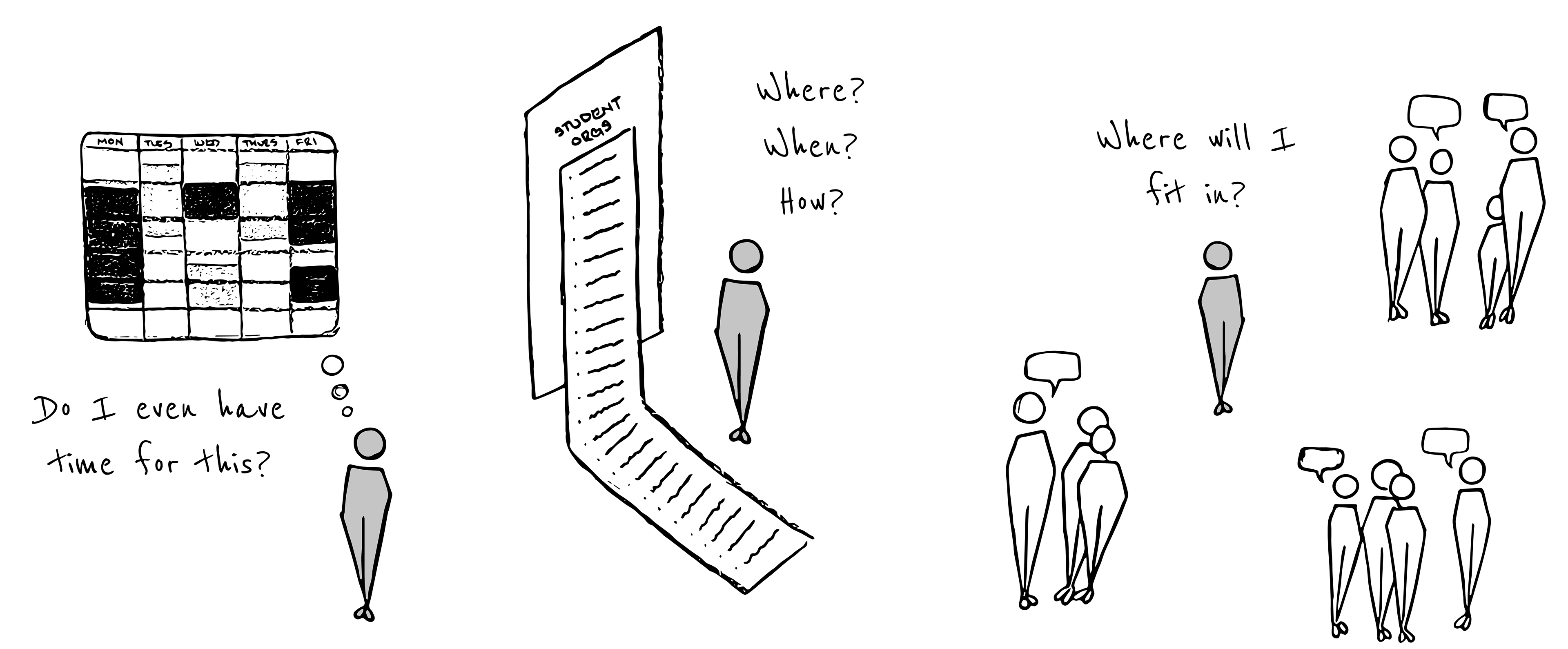 Concepting
Based on the data I collected,

I knew my solution needed to be emotionally welcoming, lighten cognitive load by easing the tyranny of choice, and efficiently communicate to students the information they needed

to decide if a club was a worthwhile time investment. I also knew I wanted the student organizations to mutually benefit from the platform, so I brainstormed ways the app could be a collaborative experience between the students and the student organizations. If students were able to make more thorough assessments about what organizations they're most interested in contributing to, then organizations wouldn't suffer from non-committal students and high turnover rate.
User Flows
I considered different social app models where content is co-created and realized that dating apps utilized a framework that might work well for my solution.
From here I returned to research to investigate a number of dating apps, with the goal of understanding how information about preferences is shared and consumed. After deciding on a match and swipe experience for users, I worked out the flow, with the goal of simplicity and ease of navigation in mind.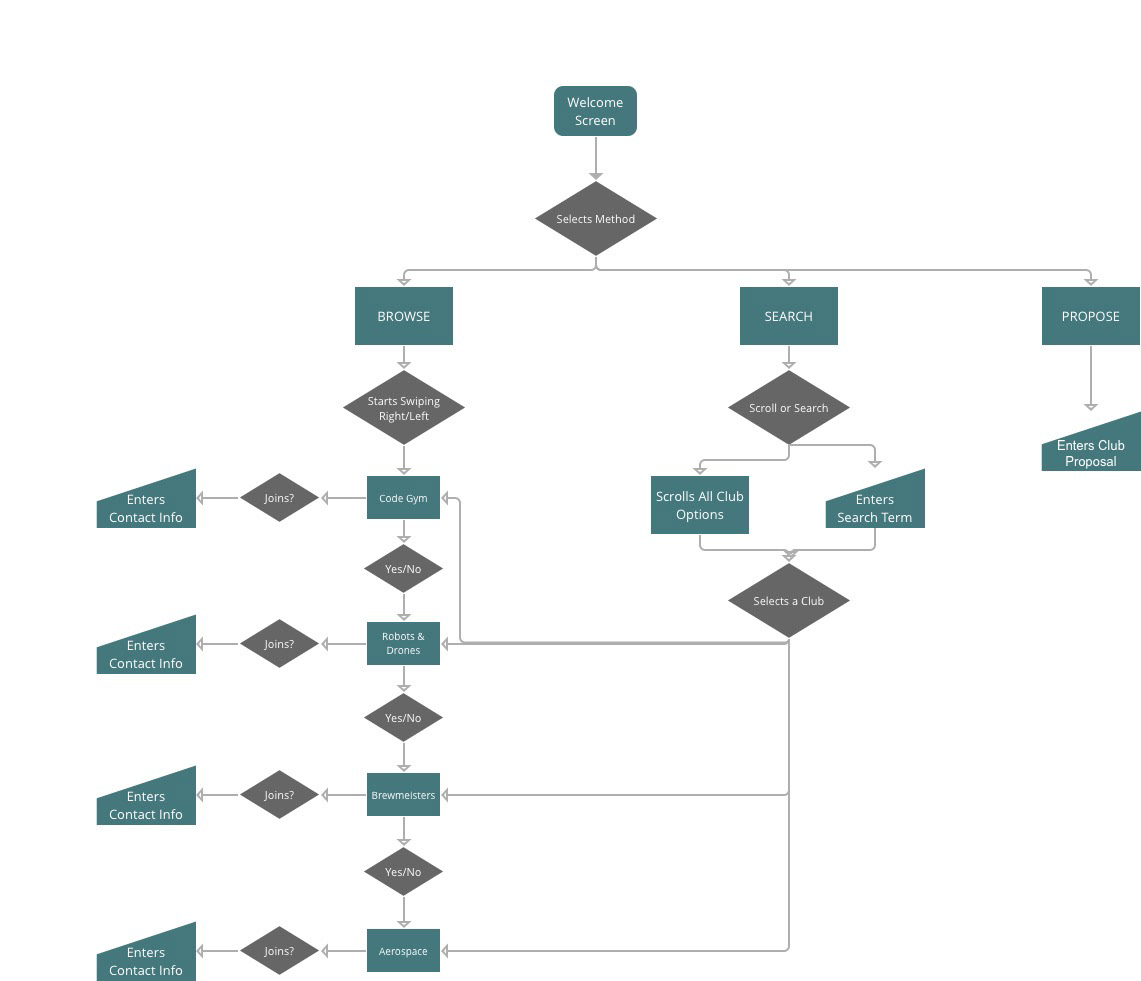 Visual Design
Visually, I knew that a friendly and welcoming aesthetic experience that invites students to connect with organizations while nodding to the history and authenticity of tech at CMU.
Smiley
is an iconic and vastly underutilized brand symbol at Carnegie Mellon and achieves this dual purpose.